Sending Good News and Great Joy
Operation Christmas Child gift boxes lead to evangelism, discipleship, and the multiplication of believers and churches even to the ends of the earth.
1. Evangelism
The Gospel is shared with children in multiple ways as they open their shoebox gifts.
OCC Gift box Outreach Events
More than 75,000 OCC gift box outreach events take place in over 100 countries each year. Geared toward children ages 2-14, these festive events are led by church leaders in each local community.
Long before we begin distributing shoeboxes to the children, National Leadership Teams around the world train local ministry partners how to organize these outreach events. Last year, OCC's network of ministry partners included over 80,000 churches and 250,000 Christian leaders. They are trained through the Ministry Partner Guide, a 36-page resource that outlines how to organize a distribution, share the Gospel, and invite children to participate in follow-up discipleship.
Outreach distribution events include a presentation of the Gospel, communicating God's unconditional love for the children and the hope found in Jesus. After hearing the Gospel presentation, boys and girls are surprised with an OCC gift box, which may be their first gift ever.
Ministry Partner Guide
The Greatest Gift Storybook
In addition to hearing the Gospel before they receive their OCC gift box, children also receive The Greatest Gift, a storybook that shares the message of salvation and invites children to follow Christ. Children take this home to share with family and friends. It has been translated into more than 80 languages.
The Greatest Gift Booklet
To the Ends of the Earth
Ever year, gift-filled OCC gift boxes are strategically being taken to difficult places around the world From densely populated inner cities to deserts and jungles, local churches are using these gifts to share the Gospel and preach Christ where He is not yet known (Romans 15:20-21). Despite formidable challenges, the Lord is opening doors for us to deliver Good News and great joy to children in need around the world!
Unreached Peoples:
WHERE THE GOOD NEWS HAS NEVER BEEN HEARD
Samaritan's Purse is bringing OCC gift boxes and the message of the Gospel to more than 100 ethnic groups whose population is less than 3 percent Christian. Among one of these unreached groups—the Himba of Namibia—we distributed OCC gift boxes to 130 children and shared the Gospel orally through solar-powered MP3 players. Nearly 50 of the OCC gift box recipients completed The Greatest Journey discipleship program and now, there are more than 80 believers and a new church planted among this unreached people group!
Our goal is to deliver OCC gift boxes to children in 250+unreached people groups over the next five years.
OCC plans to deliver shoeboxes in the hardest to reach areas and the places that are currently closed to Christianity. Over the next few years, we plan to take the Gospel to 1,000 Pacific Islands as well as any other locations where OCC gift boxes open the door for the Gospel.
"There are still places around the world where the Name of Jesus has never been heard.
That's why we're sending the Gospel to the ends of the earth through Operation Christmas Child."
Franklin Graham, President, Samaritan's Purse
2. Discipleship
Many boys and girls are invited to participate in The Greatest Journey discipleship course.
The Greatest Journey
After receiving shoebox gifts, many children are invited back to participate in our discipleship program, The Greatest Journey. Through this 12-lesson course, which includes Bible stories and Scripture memorization, they learn how to follow Christ in their daily lives as they share Him with friends and family. More than 23.3 million children have enrolled in this program since 2009.
Matthew 28:18-20 (NKJV)
Go therefore and make disciples of all the nations, baptizing them in the name of the Father and the Son and the Holy Spirit, teaching them to observe all that I commanded you; and lo, I am with you always, even to the end of the age."
The Greatest Journey Teacher Guide
The Greatest Journey Student Workbook
A Graduation Celebration
After completing The Greatest Journey, children attend a graduation celebration and receive a certificate.
Most importantly, they are given a Bible that includes the New Testament and selected Old Testament stories along with a dictionary of Biblical terms and a map of Bible lands. Complete with illustrations, it is often the first copy of God's Word the child, or their family, will own. Family and friends who attend the ceremony hear the Gospel of Jesus Christ. Hearing the Good News and testimonies during their loved one's graduation reinforces the changes they have seen in the students' lives, and their families often come to faith in Christ.
A New Testament in the student's language
Graduation Certificate
3. Bearing Fruit
As OCC gift box recipients and The Greatest Journey students share their faith with others, these friends trust in Christ and witness to even more people.
The fruit of the ministry
Since 2009, more than 11.2 million children have reported decisions for Christ while taking The Greatest Journey.
In 2019, 4.3 million children enrolled in The Greatest Journey. Of those participating, 2.3 million made decisions to accept Christ.
These children are actively share their faith with friends and family and as a result the body of Christ is growing. We praise the Lord that millions of lives are being changed for eternity and new churches are springing up in communities across the globe. In the past 2 years, approximately 2,000 churches have been organically planted by local leader following OCC outreach events and discipleship training.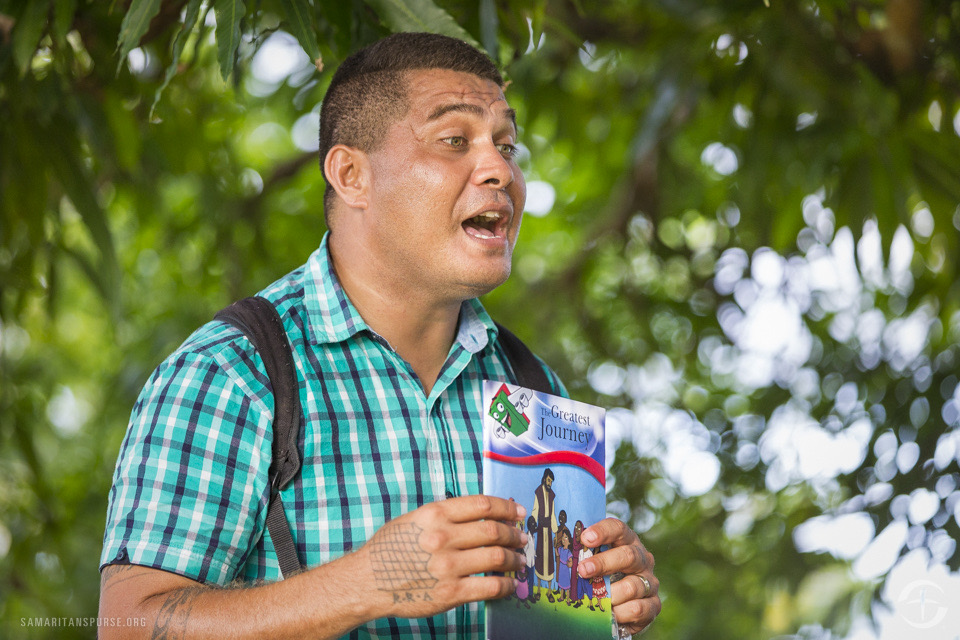 Pastor Waisea
Pastor Waisea Liwaiono hosted an Operation Christmas Child outreach in Vunika, a rural community in Fiji that had no church. He then invited the children to attend The Greatest Journey discipleship program. As the students gathered for Bible lessons, their parents grew curious and began attending too. The local witchdoctor became a believer and offered his property as a place for the new church to meet. Today 80 people attend regularly, and five additional churches have been started in surrounding villages!
We praise the Lord for making Operation Christmas Child one of the largest children's ministry programs in the world today. But there are many more boys and girls we still urgently need to reach with the truth of God's Word.
Will you help us "go and make disciples of all nations" as Christ commanded by joining us in prayer and by participation in the different ways?